Choux Pastry: Preheat your oven to 375 degrees F (190 degrees C) and place rack in center of oven. Line a baking sheet with parchment paper or lightly butter or spray the pan with a non stick vegetable spray.
In a bowl sift or whisk the flour.
Put the butter, sugar, salt, water, and milk in a heavy bottomed saucepan. Place over medium high heat, and bring to a boil. (Make sure that the butter melts before the water boils to reduce the amount of evaporation.) Remove from heat and, with a wooden spoon or heatproof spatula, add all the flour and stir until combined. Return the saucepan to the heat and, stirring constantly, cook over low heat until the dough comes away from the sides of the pan and forms a thick smooth ball (about 1-2 minutes). Transfer the dough to your electric stand mixer, fitted with the paddle attachment (or use a hand mixer), and beat on low speed to release the steam from the dough (about a minute). Once the dough is lukewarm, add about 3/4 of the lightly beaten eggs (dough will separate and then come together) and continue to mix, on low speed, until you have a smooth thick paste (dough will fall from a spoon in a non-ragged "V" shape). (See video for demonstration.) If necessary, add more beaten egg until you get the correct consistency. Stir in the grated cheese, chives, and bacon (if using). Spoon (or use an ice cream scoop) or pipe 8 mounds of dough (about 3 tablespoons (45 grams)) onto the baking sheet, spacing about 3 inches (7.5 cm) apart. With a pastry brush, gently brush the mounds of dough with a lightly beaten egg and sprinkle with sesame seeds (if desired).
Bake for 10 minutes and then reduce the oven temperature to 350 degrees F (180 degrees C). Continue to bake for a further 25 to 30 minutes or until the puffs are golden brown and when split, are almost dry inside.
Makes 8 Gougères.
Note: The Gougères can be made and frozen before baking. To do this, place the unbaked Gougères (do not brush with the egg wash) on a baking sheet and place in the freezer. Once the Gougères are frozen, place in a sealed container or freezer bag and freeze for up to a month. The Gougères can be brushed with a beaten egg and baked directly from the freezer. You will need to add a few extra minutes to the baking time.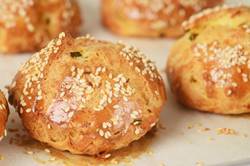 Choux Pastry:
1/2 cup (65 grams) all purpose flour
4 tablespoons (55 grams) unsalted butter, cut into pieces
1/2 teaspoon (2 grams) granulated white sugar
1/2 teaspoon (2 grams) salt
1/4 cup (60 ml/grams) water
1/4 cup (60 ml/grams) milk
2 large (110 grams) eggs, lightly beaten
1/3 cup (30 grams) grated cheese (Gruyere, Parmesan, Cheddar, or Asiago)
1 tablespoon (3 grams) finely chopped chives or green onions (optional)
2 tablespoons (15 grams) finely chopped cooked bacon (about 1 slice) (optional)
Glaze:
1 large (55 grams) egg, lightly beaten
sesame seeds (optional)