Raspberry Oatmeal Squares: Preheat your oven to 350 degrees F (180 degrees C) and place the oven rack in center of oven. Butter, or spray with a non stick vegetable spray, a 9 inch (23 cm) square baking pan.
Oatmeal Base: In the bowl of your electric stand mixer, fitted with the paddle attachment (or with a hand mixer), beat the butter and sugar until light and fluffy (about 2 minutes). Add the egg and vanilla extract and beat until incorporated. Scrape down the sides and bottom of your bowl as needed.
In a separate bowl, whisk together the flour, baking soda, and salt. Add to the butter mixture and mix until well combined. Stir in 1 3/4 cups (155 grams) of the rolled oats. Press 2/3 (460 grams) of the dough into the bottom of the prepared pan.
Spread the raspberry jam (preserves) over the oatmeal base. To the remaining dough add the remaining 1/4 cup (25 grams) of rolled oats. Crumble this mixture evenly over the top of the raspberry jam. Bake for about 25 - 30 minutes or until nicely browned. Place on a wire rack to cool and then cut into squares. They are best if made the day before serving so the flavors and texture has time to soften and mingle. They can be stored in the refrigerator, or at room temperature, for several days. Or they can be frozen.
Makes about 16 Raspberry Oatmeal Squares.
View comments on this recipe on YouTube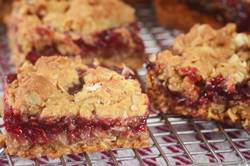 Oatmeal Base:
1/2 cup (113 grams) unsalted butter, at room temperature
1 cup (200 grams) light brown sugar, firmly packed
1 large egg (50 grams), at room temperature
1 teaspoon (4 grams) pure vanilla extract
1 1/4 cups (165 grams) all purpose flour
1/2 teaspoon (2 grams) baking soda
1/4 teaspoon (1 gram) salt
2 cups (180 grams) old fashioned rolled oats, divided
Filling:
1 cup (240 ml/300 grams) raspberry jam or preserves (homemade or store bought)