Cinnamon Swirl Coffee Cake: Preheat your oven to 350 degrees F (180 degrees C). Butter (or spray with a non stick vegetable spray) a 9 x 5 x 3 inch (23 x 13 x 8 cm) loaf pan. Line the bottom of the pan with parchment paper.
Cinnamon Sugar Topping: In a small bowl stir the brown sugar with the ground cinnamon.
Coffee Cake: In a bowl whisk or sift together the flour, baking powder, baking soda, and salt.
In the bowl of your electric mixer (or with a hand mixer), beat the butter until softened (about 1 minute). Add the sugar and continue to beat, on medium high speed, until light and fluffy (about 3-4 minutes). Add the eggs, one at a time, beating well after each addition. Scrape down the sides and bottom of the bowl as needed. Beat in the vanilla extract. With the mixer on low speed, add the flour mixture (in three additions) alternately with the buttermilk (in two additions), starting and ending with the flour. Mix only until combined.
Spoon about half (450 grams) of the batter into the prepared pan, smoothing the top with an offset spatula or the back of a spoon. Then sprinkle on the batter about half (30 grams) of the cinnamon sugar topping. Cover with the remaining batter and then sprinkle with the remaining cinnamon sugar topping. Take a wooden skewer or knife and swirl the batter. Bake for about 55 minutes, or until a toothpick inserted into the middle of the cake comes out clean. Remove from the oven and let cool on a wire rack for about 10 minutes before removing from pan.
Serve warm or at room temperature. Can be stored at room temperature for about three days or it can be frozen for about one month.
Makes one loaf.
View comments on this recipe on YouTube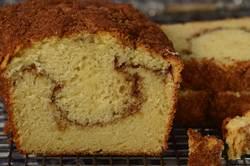 Cinnamon Sugar Topping:
1/4 cup (55 grams) firmly packed light brown sugar
1 1/2 teaspoon (2 grams) ground cinnamon
Coffee Cake:
2 cups (260 grams) all purpose flour
1 teaspoon (4 grams) baking powder
1/2 teaspoon (2 grams) baking soda
1/2 teaspoon (2 grams) salt
1/2 cup (113 grams) unsalted butter, at room temperature
1 cup (200 grams) granulated white sugar
2 large eggs, at room temperature
1 teaspoon (4 grams) pure vanilla extract
1 cup (240 ml) buttermilk, at room temperature
Note: You can make a good substitute for commercial buttermilk. Stir 1 tablespoon lemon juice into 1 cup (240 ml) milk. Let stand at room temperature about 10 minutes before using.