Vanilla Cupcakes: Preheat oven to 350 degrees F (180 degrees C) and lightly butter 12 muffin cups, or spray with a non stick vegetable spray.
In a separate bowl sift or whisk together the flour, baking powder, and salt.
In the bowl of your electric mixer, or with a hand mixer, beat the butter until soft (about 1-2 minutes). Add the sugar and beat until light and fluffy (about 3-4 minutes). Scrape down the sides of the bowl as needed. Add the eggs, one at a time, beating well after each addition. Beat in the vanilla extract. Then, with the mixer on low speed, alternately add the flour mixture and the milk, in three additions, beginning and ending with the flour.
Evenly fill the 12 muffin cups with the batter and bake for about 16 - 18 minutes or until a toothpick inserted into a cupcake just comes out clean. Remove from oven and place on a wire rack to cool completely.
Pastry Cream: In a medium-sized heatproof bowl, whisk the egg yolks with the sugar. Add the cornstarch (corn flour) and salt and mix until you have a smooth paste.
Meanwhile, in a saucepan bring the milk just to boiling (the milk starts to foam up.) Remove from heat and slowly pour the milk into the egg mixture, whisking constantly to prevent the eggs from curdling (pour through strainer if necessary). Pour the egg mixture back into a medium saucepan and cook over medium heat until boiling, whisking constantly. When it boils, keep whisking the mixture for another 30 - 60 seconds or until it becomes thick. Remove from heat and immediately whisk in the butter and vanilla extract. Pour into a clean bowl and cover the surface with plastic wrap to prevent a crust from forming. Cool to room temperature and then refrigerate until firm. The pastry cream can be stored for up to 3 days. Whisk or stir before using to get rid of any lumps that may have formed.
Chocolate Glaze: Melt the chocolate, butter, and corn syrup in a stainless steel bowl placed over a saucepan of simmering water. Remove from heat, stir in the liqueur, and let cool until it thickens slightly (to pouring consistency).
Assemble: Place the pastry cream in a piping bag fitted with an 1/2 inch (1 cm) plain tip. Fill each cupcake with the pastry cream by inserting the pastry tip into the top of each cupcake and squeezing just until you start to see cracks in the top of the cupcake. Then pour about 1-2 tablespoons of the chocolate glaze onto the center of each cupcake, letting it drip down the sides. Let the cupcakes sit at room temperature for an hour or two, or until the chocolate glaze dries. The cupcakes can then be covered and stored in the refrigerator for a couple of days. Bring to room temperature before serving.
Makes 12 cupcakes.
View comments on this recipe on YouTube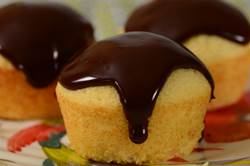 Vanilla Cupcakes:
1 1/2 cups (195 grams) all purpose flour
1 1/2 teaspoons baking powder
1/4 teaspoon salt
1/2 cup (113 grams) unsalted butter, room temperature
1 cup (200 grams) granulated white sugar
2 large eggs, room temperature
1 1/2 teaspoons pure vanilla extract
1/2 cup (120 ml) milk, room temperature
Pastry Cream:
2 large (35 grams) egg yolks
3 tablespoons (40 grams) granulated white sugar
2 tablespoons (20 grams) firmly packed cornstarch (corn flour)
1/8 teaspoon salt
1 cup (240 ml) whole (full fat) milk
1/2 tablespoon (6 grams) unsalted butter, at room temperature
1/2 teaspoon pure vanilla extract
Chocolate Glaze:
4 ounces (120 grams) semisweet or bittersweet chocolate, cut into pieces
3 tablespoons (42 grams) unsalted butter
1 1/2 tablespoons light corn syrup (or liquid glucose or golden syrup)
1 tablespoon liqueur (optional)