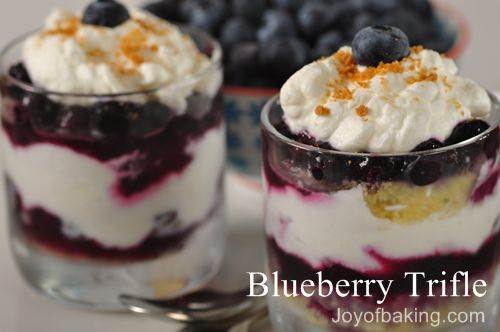 Trifles are traditionally served in a large glass bowl so all the layers can be clearly seen and enjoyed. A trifle's sequence of layering begins with slices of cake on the bottom, followed by a sprinkling of alcohol, then a layer of fruit and/or jam, then a creamy smooth custard layer, softly whipped cream, and finally the trifle is garnished with crushed cookies, sprinkles, or more fruit. Although this Blueberry Trifle breaks from tradition in that it is made into individual servings, it still follows the classic sequence of layering; pound cake, blueberry sauce, fresh blueberries, a cream made with heavy cream and mascarpone cheese, all garnished with crushed gingersnap cookies.
The beauty of a trifle is that variations exist for every layer. If you don't like pound cake, then a sponge, butter cake, or ladyfingers can be used. Next, Grand Marnier is sprinkled over the pound cake. Any spirit can be used to soak the cake or you can omit it altogether. Blueberry Sauce is then poured onto the cake but you can replace it with a favorite jam or preserve. Other berries or even peaches, pears, kiwi can be used in place of the blueberries. The next layer is typically a custard or pastry cream followed by whipped cream. For this recipe, I have replaced the custard and whipped cream layer with a delicious creamy smooth layer of softly whipped cream that is combined with mascarpone cream. The trifle is decorated with crushed Gingersnap cookies (store bought or home made). Toasted nuts or fruit could also be used to top the trifle. This trifle recipe does benefit from chilling in the refrigerator for at least four hours before serving.
This recipe makes 4 individual 1 1/2 cup (360 ml) servings or 6 - 1 cup (240 ml) servings.
Read more about the English Trifle..