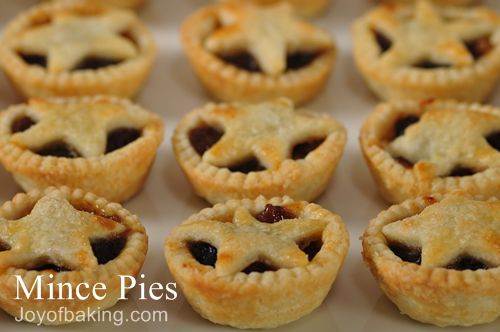 Mince Pies, also known as Mincemeat Tarts, are made with a buttery short crust pastry and a really good mincemeat (homemade or store bought). Mince Pies have been around for centuries although not in the form we enjoy today. In the past mincemeat did, as its name implies, contain meat (beef, chicken, or fish) along with eggs. Dried fruit and spices were also added but were only used as secondary flavors. Over time, beef suet came to replace the meat and today's mincemeat is thought of as a spicy preserve consisting of a mixture of dried and candied fruits, nuts, apples, and spices (with or without beef suet) that is heavily laced with brandy or rum.
Growing up we always had Mince Pies during the Christmas season. This English tradition has been around since the 16th century and Maura Laverty tells us in her Feasting Galore - recipes & food lore from Ireland that mince pies do have some biblical references. It seems they were once made in cradle-shaped tins in memory of the Christ Child's manger and the spices added to the mincemeat were a commemoration of the gifts given by the Three Wise Men. Today we seem to have replaced the cradle shape tins with round shapes (practical reasons I'm sure as most of us do not own cradle shape tart pans) but it is common to cut the pastry, that is placed on top of each individual tart, into a star shape.
Of course, we must talk about the mincemeat as this is the most important part of these tarts. You can either make your own mincemeat (recipe here) or you can use a really good commercially made mincemeat which I often like to doctor with a little grated apple and lemon zest. Depending on your likes and dislikes you can also add orange zest, chopped nuts, candied or dried fruits and a splash or two of brandy or rum. Now, for the pastry I use my favorite, Pate Brisee, which is cut into 24 rounds that are placed into 2 inch (5 cm) miniature muffin tins. A teaspoon or so of mincemeat is put on top of the pastry lined tins and then covered with star shaped pastry cutouts. Brush the tops of the stars with a little egg wash and granulated sugar and bake the mince pies in a hot oven until the pastry has nicely browned. These are excellent warm from the oven or at room temperature with a dusting of confectioners' (icing/powdered) sugar. The added bonus is that they freeze very well.