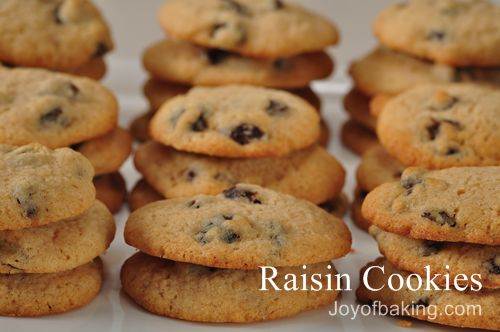 Raisin Cookies are very popular with kids probably because of their soft and chewy texture and buttery sweet flavor. These homey, raisin-packed, old fashioned drop cookies are a busy mother's friend as the batter is quickly made and then all you do is drop small spoonfuls onto a baking sheet. The cookies are baked until their centers are just beginning to turn brown yet their edges are a lovely golden brown color. Raisin Cookies make a great after school snack and they also make a welcome surprise when tucked into lunch boxes.
What I really like about this Raisin Cookie's batter is how easy it is to make. Unlike most drop cookie batters where you cream the butter with the sugar then beat in the eggs and then the flour mixture, this recipe simply mixes all the ingredients together in the mixing bowl. The batter is beaten for one minute and then you just have to stir in the raisins. Now, what type of raisins should we use? Although I like to use dark raisins in these cookies you could also use golden raisins. Both dark and golden raisins are simply dried Thompson seedless grapes. The difference is that dark raisins are sun dried which gives them that dark shriveled appearance, whereas golden raisins are treated with sulfur dioxide first to prevent them from turning dark and then air dried to keep them a golden yellow color. Raisins, like dates, have a high sugar content, and are a good source of vitamins and iron. Because of their high sugar content they retain moisture which keeps these cookies soft for several days.
This Raisin Cookie recipe is adapted from Home Baking, a cookbook by two Canadians, Jeffrey Alford and Naomi Duguid. This is a lovely coffee table book that does double duty in the kitchen. This cookbook is bursting with both sweet and savory recipes from home bakers all around the world. I found it hard to decide what to bake from this book, but the two recipes I have tried so far turned out perfectly.