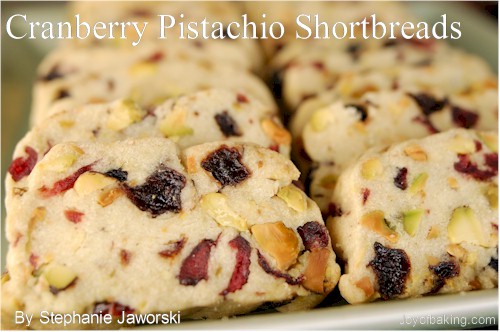 I don't know who first thought of adding dried red cranberries and green pistachio nuts to a cookie dough but it was a brilliant idea. It makes us all look so clever during the Christmas season, serving a plate of red and green flecked shortbread cookies to match all our red and green decorations. As you may know, shortbreads are the quintessential Christmas cookie, starting out in Scotland as a Christmas and New Year's Eve (Hogmanay) treat. The Scots really got this cookie right, and we are only going to enhance it here with these buttery Cranberry Pistachio Shortbreads by adding dried cranberries and crunchy pistachios. While I like to place them in pretty containers to give as gifts, I always put a few aside to nibble on with my afternoon cup of tea.
It is no surprise that shortbreads moved from being simply a Christmas cookie to a year round favorite. With their buttery flavor and crumbly texture, this cookie (biscuit) is hard to beat. All shortbreads, including these Cranberry Pistachio Shortbreads, have three main ingredients, butter, sugar, and flour. So, of course, with such few ingredients, we must try to use the best we can afford. First, a really great tasting shortbread needs a great tasting unsalted butter. Butter in the States is graded according to flavor, color, texture, aroma and body and one way to tell the quality of the butter is by the letter code or numerical number listed on the butter's package. The highest grade is AA (93 score), then A (92 score), followed by B (90 score). I prefer unsalted butter as the salt in salted butter can overpower its sweet flavor and can also mask any odors the butter may have absorbed. Also, the amount of salt added to salted butter can vary from manufacturer to manufacturer so it is hard to know how much salt to add to your recipe. Another important ingredient in shortbreads is vanilla extract so use a good quality "pure" vanilla extract. Stay away from the ones labeled "imitation" vanilla extracts as they are made with synthetic vanilla (from glycoside found in the sapwood of certain conifers or from coal extracts) and leave a bitter aftertaste. As the name 'Cranberry Pistachio' Shortbreads implies, we are also adding dried cranberries and pistachio nuts to the shortbread batter. Dried cranberries are soft and chewy with a sweet tart flavor and they can be found in most grocery stores as well as health food stores. The pistachios I use are unsalted natural pistachios, not the ones that have been dyed red. If you cannot find unsalted then rub salted pistachios in a clean dry dish towel to get as much salt off the pistachios as you can. I like to roughly chop both the dried cranberries and the pistachios so you get small chunks, not large pieces, in each cookie.
The making of these Cranberry Pistachio Shortbreads involves dividing the dough in half and then forming each half into a log shape (same method used with refrigerator or icebox cookies). The logs are then chilled (up to two weeks) or, for longer storage, frozen (up to two months). Once thoroughly chilled, slice off as many, or as few, cookies as needed. Essentially, they are fresh cookies on demand.