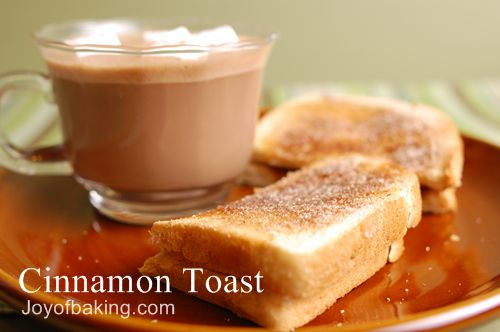 Growing up, Cinnamon Toast was considered a treat, not something we ate for breakfast. I don't know why, maybe it was because anything covered in sugar couldn't possibly be considered regular fare. Even today, I still think of Cinnamon Toast as something special, a perfect comfort food that I make on cold or rainy days, or when I am feeling a little under the weather. I enjoy the whole process of both making and eating cinnamon toast. I love how the whole kitchen fills with the delicious smell of browning bread. I love slathering the hot, golden brown toast with butter, sprinkling on the cinnamon sugar, and then placing it under the oven's broiler, impatiently waiting for the sugar to melt and bubble. I love eating Cinnamon Toast while the sugar is still hot and delightfully crisp, yet underneath the toast is wonderfully chewy. And I especially love having it with a steamy cup of Hot Chocolate.
I know many think Cinnamon Toast is so easy that a recipe is hardly needed, but there are differing opinions as to how it should be made. Its long history attests to that fact, for as British food writer Jane Grigson tells us in her lovely book 'English Food', as far back as 1660, Robert May in his 'The Accomplisht Cook' has a recipe for 'Cinnamon Toafts' that calls for putting a mixture of cinnamon, sugar and claret on toast and then warming it over the fire. So, while the recipe I have given here is how I like my Cinnamon Toast, it is by no means the only way to make it.
When making Cinnamon Toast my preference is to use a good and soft white bread, one that is sliced, but not too thick. You can toast the bread in a regular toaster, but I prefer to use the oven's broiler, where I can carefully watch the bread so it gets toasted just until it is golden brown on both sides. Then I slather one side of the toast with butter, making sure that the butter comes right up to the edges of the crust. I then sprinkle the surface liberally with a cinnamon sugar mixture (you can use either white or brown sugar and adjust the amount of ground cinnamon to taste) and place the toast back under the broiler until the sugar begins to melt and bubble to form a lovely glaze. Now, while Cinnamon Toast is usually eaten straight away while it is still hot, I have been known to sneak leftovers hours later when the toast has cooled and become deliciously soft and chewy.