Cheese Soufflé: Preheat your oven to 400 degrees F (200 degrees C) and place the oven rack in the center of your oven. Butter a 6 cup (1.4 liter) soufflé mold and then dust the mold with an even layer of the finely grated parmesan cheese. Place the soufflé mold on a larger baking sheet.
Béchamel Sauce: Melt the butter in a medium sized saucepan placed over medium heat. When melted and it starts to bubble, remove from heat and, with a wooden spoon or whisk, add all the flour and stir until combined and smooth (no lumps). Return the saucepan to medium heat and, stirring or whisking constantly, bring to a boil and continue to cook for about one to two minutes or until light brown in color (this will get rid of the flour's raw taste). Remove from heat and slowly add the milk, whisking constantly, until the sauce is well blended and smooth. Whisking constantly, return to medium heat, and bring to a boil. Continue to gently boil, whisking constantly, for about 2 minutes or until the sauce is very thick, smooth and shiny. Remove from heat, stir in the salt, pepper, and cayenne pepper. Gradually stir in the grated cheese until it's melted. Finally, stir in the chives and bacon, if using. Then whisk in the egg yolks, one at a time.
Next, whip the egg whites. In a clean bowl of your electric stand mixer, fitted with the whisk attachment (or with a hand mixer or wire whisk), beat the egg whites and cream of tartar, on medium low speed, until soft peaks form. Increase your mixer speed to high and beat until stiff peaks form. With a large rubber spatula, gently fold about a quarter of the egg whites into the sauce to lighten it and makes it easier to fold in the rest of the egg whites. Gently fold the remaining whites (in 2 - 3 additions) into the lukewarm sauce. Pour the batter into the prepared mold and place in oven. Reduce heat to 375 degrees F (190 degrees C) and bake for about 30 - 34 minutes or until the soufflé is puffed, golden brown on top, and just set (the center will wobble slightly when the pan is gently shaken). Do not open the oven door for the first 25 minutes or the soufflé may collapse. Serve immediately as the Soufflé will deflate as it cools.
Leftovers can be covered and stored in the refrigerator. Reheat.
Serves 3 to 4 people.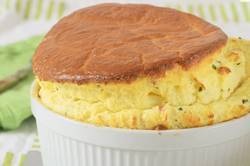 Cheese Soufflé:
1 tablespoon (14 grams) unsalted butter, melted
3 tablespoons (15 grams) finely grated Parmesan Cheese
Béchamel Sauce:
3 tablespoons (42 grams) unsalted butter
3 tablespoons (28 grams) all purpose flour
1 cup (240 ml/grams) milk, warmed
1/4 teaspoon (1 gram) salt
1/4 teaspoon (1 gram) pepper
1/8 teaspoon cayenne pepper (optional)
4 ounces (115 grams) grated Sharp Cheddar and/or Gruyère Cheese
2 tablespoons (6 grams) finely chopped chives or green onions (optional)
2 slices cooked bacon, coarsely chopped (optional)
4 large (60 grams) egg yolks, at room temperature
5 large (160 grams) egg whites, at room temperature
1/4 teaspoon (1 gram) cream of tartar