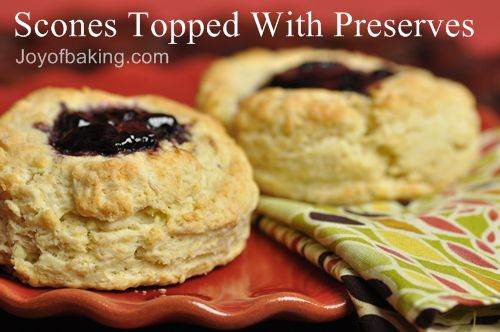 Scones topped with preserves is just the thing to have with your morning coffee. I like them best warm from the oven when the jam is all soft and runny, the outside crust of the scone is deliciously crisp and crumbly yet the inside is soft and flaky. You can use any flavor of jam or preserve, just be sure it is of high quality. Jams and Preserves are essentially the same thing as both are a cooked combination of fruit and sugar (and sometimes pectin). The difference is that preserves still contain chunks of fruit, whereas jam is more like a fruit puree.
These scones are made with buttermilk which gives them a soft and tender, almost bread-like crumb. Buttermilk has a thick and creamy texture with a rich tangy buttery taste that is commercially made by adding a bacteria to whole, skim, or low fat milk. In a pinch you can make your own buttermilk by simply adding 1 tablespoon of white distilled vinegar, cider vinegar, or lemon juice to 1 cup of milk and then letting it stand 5 to 10 minutes before using. Another option is to use buttermilk powder, which is now available in some grocery stores and specialty food stores.
Once the scone dough is made, it needs to be patted into a round shape that is about 1 - 1 1/2 inches (2.5 - 3.8 cm) thick. Use a 2 1/2 inch (6.5 cm) round biscuit cutter to cut the dough into circles. Transfer the scones to a baking sheet lined with parchment paper. Then, using your thumb, make an indentation in the middle of each scone, pressing down almost to the bottom of the scone. Try not to squash the outside edges of the scone. Fill each indentation with about 1 tablespoon of jam. The scones are baked until they are nicely browned and a toothpick inserted into one (not in the jam) comes out clean. Remove from oven and place on a wire rack to cool. Scones are definitely at their best the day they are made. However, while the outsides of the scones will soften, they can be stored for a few days.